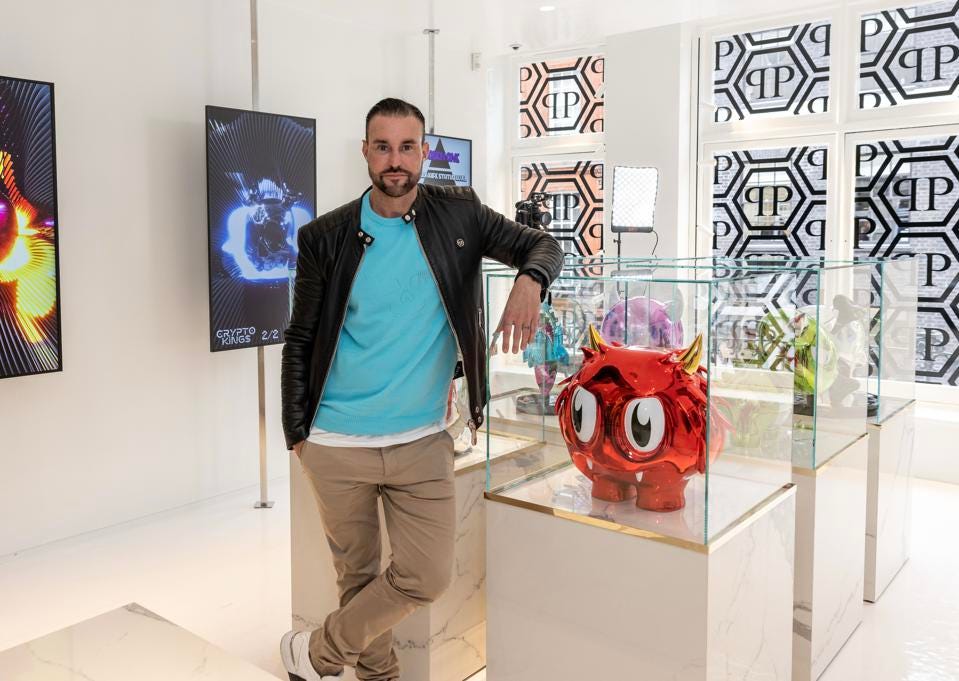 First NFT and Crypto Luxury Fashion Store Opens in London – Virtual Reality Times
German fashion designer and entrepreneur Philipp Plein launched a crypto concept store on London's Bond Street in late April, allowing his customer to make payments at his physical store for his products in over 25 cryptocurrencies at the flagship store from London.
Last year, Philipp Plein was also one of the first online stores to start accepting crypto payments for its wares. The move to the physical store this year is therefore a natural progression for the company. If the Bond Street crypto concept store proves successful, Plein will roll it out to the company's other 100 outlets.
Plein has taken its web3 pivot one step further by launching a free and independent online NFT trading platform.
Plein's approach is unique from that of other major luxury brands that purchase metaverse lands or create exclusive communities in the metaverse.
Plein does not target uber-tech-savvy users but ordinary shoppers and chains them into emerging technology, especially cryptocurrencies and NFTs. Web3, ultimately, is a numbers game, and its success depends on its ability to appeal to mainstream users.
Plein sees huge potential in the metaverse as "the future of the internet", but the success of which will depend on its reach. He not only wants to attract buyers to his metaverse and crypto platforms, but he also wants to play a role in bringing more users into the metaverse.
In its four-storey London flagship, there are three floors of accessories and ready-to-wear, as well as an NFT art gallery called The MoNA (Museum of NFT Art). The MoNA presents the designer's CryptoKing$ collective made with the creator Antoni Tudisco. There are also 'Lil Monster' physical sculpts that collectors of the series snapped earlier this year.
For mainstream consumers, Plein's metaverse-infused flagship store in London will serve as a metaverse information hub and there will be staff on hand to guide people on how to set up a digital wallet and navigate the complicated and daunting process of buying NFT and digital fashion. .
The crypto concept flagship store in London supports a huge number of cryptocurrencies, 24 in total. Users can access real-time exchange rates by scanning a QR code for each of the products offered.
Building on its success at the Plein's Bond Street flagship store in London, the service will eventually be rolled out to more than 100 of the brand's stores around the world. The QR code system integrated into cryptos is a great innovation in the concept store and drastically simplifies crypto transactions. It's something that could be replicated by other outlets trying to integrate the metaverse into their retail experiences.
Purchases can be refunded in Fiat currency in your jurisdiction or in crypto, based on the exchange rate on the day of return.
Plein also wants to simplify the NFT ownership process so that ordinary, non-tech savvy people can also become NFT collectors. Accordingly, Plein will offer NFT giveaways along with the physical products. This not only spreads the NFT culture, but also expands the designer's customer database.
Plein says that up to 30% of its wares will be automatically linked to an NFT and customers can choose to keep or resell them on NFT marketplaces.
Plein has also come up with a unique concept that will allow users to display their NFTs as digital art if they don't plan to sell them. It will sell different sizes of hardware frames where customers can download and view NFTs at home.
On its NFT marketplace, Plein also wants to simplify the process of buying NFT. Unlike major NFT marketplaces such as OpenSea, Plein's NFT marketplace offers credit card and Apple payment options in addition to the constellation of crypto payment options.
Plein's payout price also covers everything, so you won't have to worry about volatile gas fees for your NFT transactions. Plein compares gas charges to adding delivery charges on physical goods and an NFT trade barrier. This was seen in the recent Otherdeeds sale of Otherside, when petrol costs were in many cases higher than the price of a single act.
However, Plein plans to sell more than its NFTs on its crypto market. It will also be an independent platform for NFT artists and Plein will provide major incentives for them to create on the platform. For example, no commission will be charged to them.
Plein says he wants to "create a community of users" like Facebook and Instagram and wants to build a substantial community on his platform in less than two years. Plein's NFT Marketplace also aspires to be a one-stop-shop for vendors interested in the Web3.0 space. There will be tutorials on how to create NFTs and how to create marketing materials and smart contracts. The platform will also allow vendors to access analytics and royalty advice for mint sales and secondary sales.
At the store's launch in London, British Jamaican rapper Stefflon Don gave a performance which was streamed live at a virtual event held in the Decentraland Metaverse where Plein had bought a $1.4 million bundle known as the name of Plein Plaza. The Decentraland Plein Plaza had also hosted the designer's virtual fashion show during Metaverse Fashion Week in March this year.
Plein Plaza also hosts a virtual MoNA linked to the artist's NFT marketplace. MoNA offers a screening of Plein Plaza at Decentraland and features pieces from Plein's collaboration with visual artist Antoni Tudisco. Plein wants the MoNA to be an artistic, cultural, fashion and futuristic hub.
From his in-country crypto store Decentraland Metaverse to blockchain-based exhibition MoNA and even a 24-hour NFT gallery based in Chengdu, China, Philipp Plein has shown a healthy appetite for the metaverse and its ability convenient to take advantage of in real time. – life trade and shopping experiences.
The designer plans to roll out multiple physical MoNA exhibits across its large network of stores around the world.
https://virtualrealitytimes.com/2022/05/22/first-nft-and-crypto-enabled-luxury-fashion-store-opens-doors-in-london/https://virtualrealitytimes.com/wp-content/uploads/2022/05/Philipp-Plain-in-his-MoNA-NFT-Gallery-in-his-London-crypto-concept-store-600×426.jpghttps://virtualrealitytimes.com/wp-content/uploads/2022/05/Philipp-Plain-in-his-MoNA-NFT-Gallery-in-his-London-crypto-concept-store-150×90.jpgKristine HummelUnclassifiedGerman fashion designer and entrepreneur Philipp Plein launched a crypto concept store on London's Bond Street in late April, allowing his customer to make payments at his physical store for his products in over 25 cryptocurrencies at the flagship store from London. Last year, Philipp Plein was also one of the…Kristine HummelChristina
Hummel[email protected]Authorvirtual reality time